Continuous Experience Optimization for Native Mobile Apps is Here.
Our new Native Mobile App Analytics and Monitoring solution introduces a fresh take on traditional mobile application monitoring, beginning and ending with business outcomes and actionable insights on your customers' digital experience. The Blue Triangle platform is designed to help brands focused on a culture of continuous experience optimization quantify the cost of friction and deliver frictionless customer experiences.
Native Mobile App Analytics and Monitoring is no different, further empowering brands to develop an omnichannel understanding of the customer experience across every digital touchpoint. This means brands can access revenue opportunity data from all digital properties in a single platform to continuously iterate and improve their website and mobile app experience.
"Our new Native Mobile App Analytics and Monitoring allows us to surpass others in this space by linking the impact of slow native application activity directly to the decision to buy, which allows digital teams to pinpoint revenue-impacting issues and build return on investment justification," says Tim Grant, our CTO.
While there are plenty of mobile app monitoring tools, they fall short by only focusing on identifying problems and failing to quantify the business outcomes of friction points. As a result, this often leads to more confusion, unpredictable results, and lost revenue opportunities. For native app development teams, it can also contribute to SDK fatigue!
Any vendor can monitor mobile app sessions, crashes, and errors. Blue Triangle is the only complete platform purpose-built for continuous experience optimization that begins and ends with business outcomes.
"Each day without the Blue Triangle solution and the team's expert guidance costs [us] missed revenue opportunities across the customer journey." Director of Digital Experience, Home Furnishings Retailer
Our SDK rises above and beyond by providing game-changing capabilities to meet the unique needs of each distinct app, empowering teams to deliver frictionless digital experiences and achieve quantifiable business outcomes.
Here's what users are getting most excited about with our new Native Mobile App Analytics and Monitoring:
Quantify the revenue loss due to customer friction points.
Revenue Opportunity:

Quantify the impact of app performance on business metrics such as conversion rates, average order value (AOV), and app turn pages per native app session – all within simple, customizable dashboards!
Resolve friction by identifying errors and uncovering hidden issues.
Real-Time Customer Journey:

Quickly identify customer behavior and find user friction points to optimize the customer journey, driving higher conversion rates and business outcomes.
Anomaly Detection and Alerts:

Identify friction and drill down into the errors real users are experiencing on your app to help deploy your resources.
Aggregate Waterfalls:

Automatically collect network timings for waterfall drill-downs to quickly isolate issues where slow API Calls impact end-user experience.
Validate the business outcomes achieved from your remediation efforts.
What's Changed Report:

Leverage aggregate waterfalls displaying object and domain level details to run a comparison of two different waterfalls to validate that your remediation efforts achieved or exceeded the expected outcome.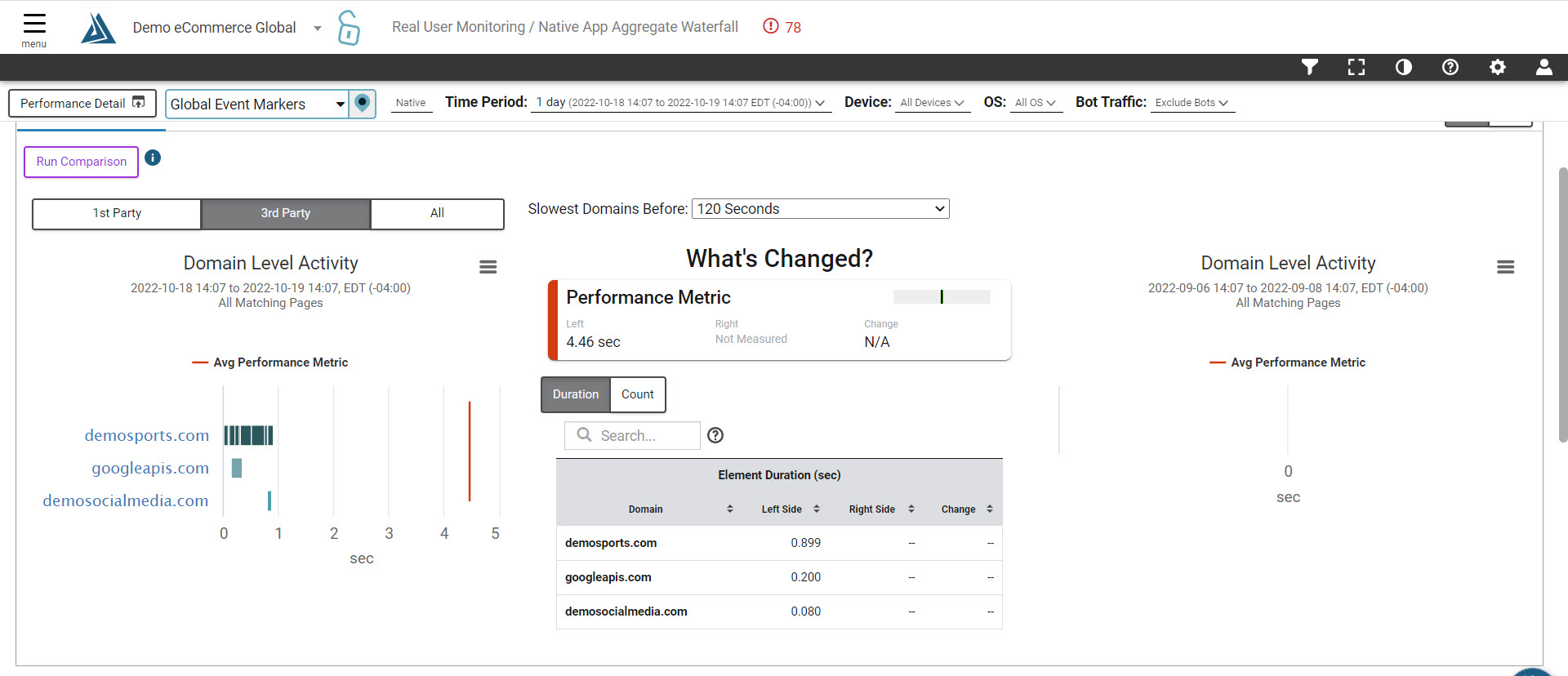 Frequently Asked Questions
How is the Blue Triangle Native Mobile App Analytics and Monitoring different than other tools?
Only Blue Triangle's Continuous Experience Optimization platform starts and ends with business outcomes, unlike traditional Digital Experience Management (DEM) and Application Performance Monitoring (APM) tools. We use a three-step, full-cycle approach to optimizing website and mobile app experiences. We begin with quantifying the revenue loss due to friction. Next, we identify errors and hidden issues so you can prioritize what friction points to resolve (with a prescriptive blueprint to guide your optimization efforts) and, finally, validate that your remediation achieved expected business outcomes to justify ROI.


What if I have a website and native mobile app?
In that case, it's the best of both worlds! Blue Triangle is the only complete digital platform purpose-built for continuous experience optimization across web and native mobile app. This means you can connect data and align teams all in a single platform to continuously iterate and improve your customers' digital experiences.


Does the Blue Triangle SDK add overhead?
In short, yes, the Blue Triangle SDK will add a small amount of overhead. Still, it will not compromise the product or user experience or create an unnecessary burden for your engineers. The amount of data our SDK captures, from app activity and usage metrics to business outcome analytics, is well worth the low overhead. Try it out and see for yourself!


What is involved in implementing the Blue Triangle SDK into my native app?
You'll need to deploy the Blue Triangle SDK into your application code. If this sounds daunting, don't sweat it! We have extensive documentation and tutorials available covering iOS and Android implementations.